1. Ensure optimal nozzle height. If the nozzle height value is too low, it will cause warping; if it is too high, it will crash the nozzle into the platform,causing damage and clogging. You can manually fine-tune the nozzle height value in the"Calibation"panels.You can try to adjust the nozzle height value plus or minus 0.1–0.2mm from the base on previous saved nozzles heights.
2. Calibrate the printing platform well. An unleveled platform usually causes warping.
3. Allow enough time for sufficient preheating.A well preheated platform is essential for printing large objects without warping.
4. The airflow on print head is adjustable, slide the air flow adjustment knob to changethe amount of cooling directed onto the printed object. Generally the more cooling provided, the better the print quality. Cooling also help with support and raft removal. However cooling also encourage wrapping, especially for ABS. To generalize, PLA can take strong cooling without problem,while ABS should avoid cooling or give little cooling. For ABS+ medium coolingis recommended.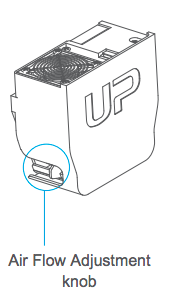 5. Printing with no raft. It is highly recommended to use raft for normal printing as it improves adhesion and is required for leveling compensation. It is turned on by default, but you can turn it off in the "Print Preference" panel. 6. Printing with no support. It is possible to print with out supporting structures.You can turn off support by choosing "No Support" in the "print" setting panel.