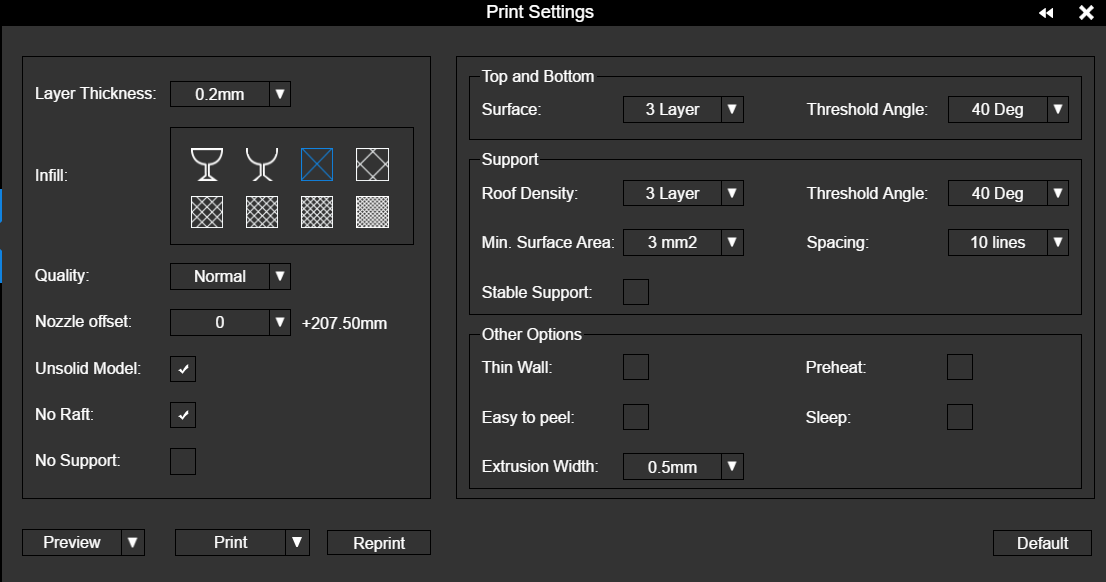 Top and Bottom
Surface: the number of layers at the sealing the top and the bottom of the printed object.
Threshold Angle: This determines at which angle the Surface layers start to be printed
Support
Roof Density: Choose the number of dense layers between support and support surfaces.
Threshold Angle: Determine the angle which supports and dense layer to generated.
Min. Surface Area: Determine the minimal area of surface that will be supported, area less than this vaule will not be supported.
Spacing: Determine how dense the support will be, the larger the value the less dense of the support.
Stable Support: Support structure will be stronger but less easy to be removed.
Other Options
Thin Wall: The Software will detect wall thickness that is too thin to print and expand the feature to a printable size.
Easy to Peel:
Preheat: Preheat to target temp, or for 15 mins maximum.
Sleep: Printer will enter sleep mode after print job finished.
Extrusion Width: Set the thickness of extrusion paths.