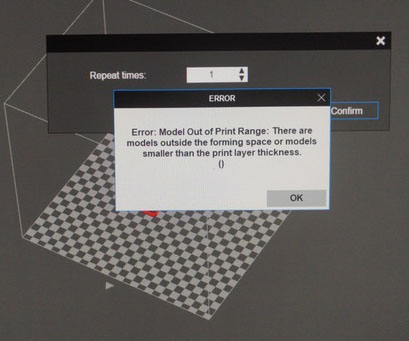 Three possibilities that could cause the out of boundary issue.
1. Model is bigger bigger than the print volume. If model going beyond any of the xyz axis range, this error will occur. Resize the model or put the model back into the printable range.
2. The model's thickness is smaller than the Layer thickness setting.
3. Nozzle height Value is not valid.
Since Z axis range is determined by the nozzle height value. If the nozzle height value is not set correctly eg. 0 or too small. Or sometime the nozzle height value was deleted. eg. after software update or formating of on-board SD card, this error may also pop up. To fix the problem just redo the nozzle height measurement and save the value in software (UP Studio/Wand)