Tools Cross Screwdriver, 2.5mm Allen Key
Take down the right cover before this step, and screw off four bolts on back cover by cross screwdriver
Unplug FFC extruder cable from PCB-extruder transition board to take FFC extruder out.

3. Screw off two bolts by cross screwdriver and take down the self-made part in
4.Take down the FFC cable, please follow the right fold.

5. Screw off four bolts under X Axis linear rail guide clip by cross screwdriver, andtake down the X linear rail guide clip.
6. Take out belt for X Axis from X Axis bearing sleeves.

7. Pull one side of X Axis linear rail out of machine through making Y Axis linearrail guide assembly slant, and take whole X Axis linear rail out from the front
8. Screw off four bolts by 2.5 mm Allen key, and make Y Axis belt loose.

9. Screw off four bolts by cross screwdriver and take two self-made parts down. Unplug Y Axis belt from the plastic injection part. The cable should be pressedbetween belt and plastic injection part.
10. Hammer X Axis bearing sleeves by handle of screwdriver, and take the X Axisbearing sleeves down. Y Axis linear rail guide assembly can be uninstalled.

11. Please adjust belt before putting X Axis belt into the bearing sleeves. Theposition of X Axis makes the same distance between part C and D,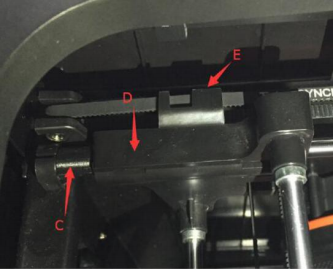 12. The steps of installation and uninstallation is complicated, the steps ofinstallation is opposite to uninstallation.