Print button can be clicked only after the model is added, if the model is not added, the print button is not clicked in the gray state.

Print settings are divided into common settings and advanced settings. Common settings include: layer thickness, infill, Quality, Nozzle Offset, Unsolid Model, No Raft, and No Support. Advanced settings click to open the advanced settings page, as shown in the following figure: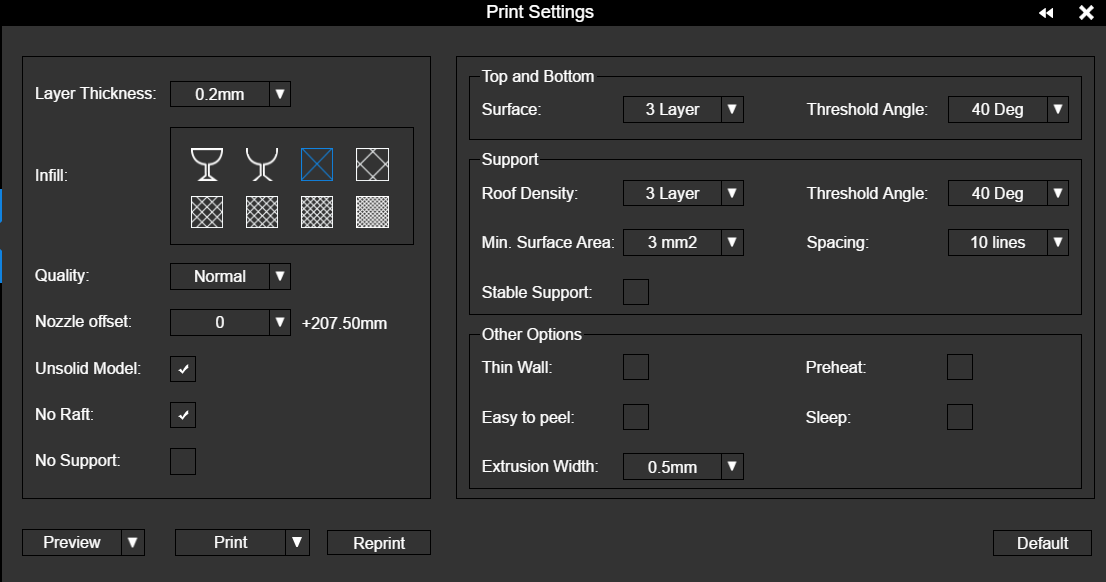 1. Layer thickness: 0.2mm,0.15mm,0.25mm,0.3mm,0.35mm;
2. Infill: shell, surface, 13%, 15%, 20%, 65%, 80%, 99%

3. Quality: Normal, Fine, Fast
4. Nozzle Offset:-1.0,-0.9,-0.8.-0.7,-0.6,-0.5,-0.4,-0.3,-0.2,-0.1,0,0.1,0.2,0.3,0.4,0.5,0.6,0.7,0.8,0.9,1.0;
5. Unsolid Model: The software will auto fix nonsolid models.
6. No Raft: print without raft.
7. No Support: print without support.