1. Open "Wand"
2. Connect Printer
3. Click "Height Detect" button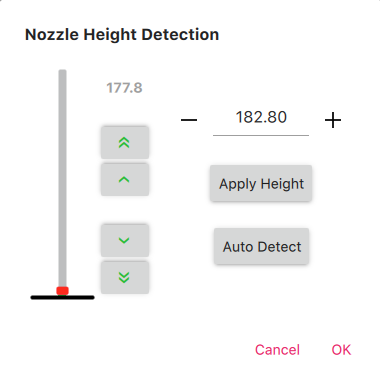 The number 177.8 is the live height value of the nozzle.
The 182.8 is the current Nozzle Height Value (Z-value) for printing.
The green arrow keys will move the platform up and down.

The +/- keys is for modifying current Nozzle Height Value. After editing the value user can save the setting by clicking "OK".

"Apply Height" button will apply the current height to nozzle height field (182.8 will be replaced by 177.8), remember to click "Ok" to save the Nozzle Height Value.
Printer models with Auto Nozzle height function can use the Auto Detect to button to trigger the automatic measurement.
User may also refer to this article: 4.2. Nozzle Height Value